GIVEAWAY NOW CLOSED*** thanks for all your entries!
Thank you for all the lovely comments about my first ever tutorial! I havent had the energy to post again this week after doing that - haha, it was mammoth!
Anyhoo, today is the last day to enter the giveaway for the little Itty Bitty Tree... so leave a comment, follow me and blog about it for three chances :)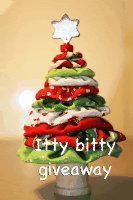 Back later today with the winner!