This morning I have woken with a heavy heart.
Watching the events unfold yesterday in Toowoomba are nothing short of devastating and terrifying.
The flooding in Queensland has now reached deadly proportions with 7 people confirmed dead from yesterdays 'inland tsunami' and many more missing. It is being described as the darkest hour of the flood crisis. It makes you wonder if it can get any worse.
My husband's Aunty and Uncle live in Toowoomba and we haven't been able to reach them to confirm they are safe. I pray today we will get good news.
Last night many people spent the night on the rooves of their houses because rescue teams were unable to reach them.
Today we have woken to the rumble of thunder and more heavy rain. It is relentless, unforgiving and still more is predicted to fall.
It is now predicted that the water is heading to the Brisbane CBD and although it isn't expected to be as serious as what has already been seen, its hard to know as noone expected yesterday's events to turn so tragic.
It is something you imagine happening elsewhere, not where you live. But we are safe at the moment and thankful for that.
Please pray for all the Queenslanders affected by this terrible crisis, for the SES workers and Police and others who are working around the clock and have been for weeks. Pray for the people who have been evacuated from their homes (some for the second or third time in a matter of weeks) and for those who have lost loved ones.
Also pray for Lori, a fellow mummy blogger who lost her husband yesterday. A terrible tragedy. She has two very small children. Keep them in your prayers.
I wanted to write a positive post today but feel my heart is so heavy as I try to make sense of what is happening around me.
Some crafty Aussies have kick started an appeal to raise money ..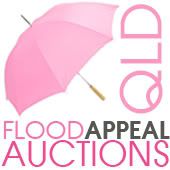 head over to the site and see how you can help out.