I was struggling this morning about what to write about what is happening here in the Brisbane area. Nothing I say can bring relief to anyone who is right in the middle of this devastating crisis at the moment. Nothing I say can really paint a picture of the severity of this disaster.
So Im just going to tell you about it.. from where we are...our perspective.
We have been stuck at home with all the flooding happening around us and have been relying on the media and internet to find out what has been happening. A lot of the places we normally go the roads we travel are now damaged and in clean up mode. It is really weird to think, I might just pop out to get suchandsuch and then remembering.. you cant because the road is closed or the bridge is damaged.. totally weird.
It really is devastating to watch at times. Tears come easily at the moment.
At 4am this morning (Qld time) the river reached its peak and although it was 1 metre lower than expected, the devastation is phenomenal.
Do you remember the post I wrote, only a week ago about a
great day out in Brisbane
? Now nothing is the same in that area.. its all currently under water.. beautiful South Bank, beaches and parklands, the amazing park at New Farm... all of it, covered in dirty water and debris. I cant even look at my post again because it still seems so surreal.
There's been a wide range of fluctuating emotions going on here.
On Monday it was sadness and disbelief for all the rural towns experiencing flooding.
Tuesday it was utter horror as we watched the flash flood rip through Toowoomba, followed by sadness at the loss of life. We frantically rang my husband's aunty and uncle all evening to check they were ok. They are.
Wednesday was a day of fear and stress as the suburbs around us quickly went under water, friends were told to evacuate immediately, and the rain and electrical storms were relentless.
Thursday was filled again with sadness and disbelief as the city we love and have called home for almost three years was inundated with water.
And now it is the guilt. For feeling so worried and scared and then not being affected. For feeling all this sadness and loss, when we are so lucky and mostly unaffected.
Last night and today it is utter heartbreak for those thousands of people who have lost everything. The stories of family's who have lost loved ones ...just indescrible sadness.
The shock of it all here is starting to wear off and the reality is sinking in. Even newsreporters seem to be struggling to keep their emotions in check.
There is a sense of helplessness being so close to everything happening, not being flooded but being prevented from travelling far and wanting to do SOMETHING to help.
Last night I found out about a great initiative
here
, baking for the SES workers and volunteers. These workers are working around the clock keeping Queenslanders safe, rescuing thousands of people, sandbagging businesses and homes.
So today, that will be our mission, to bake up and storm and drop it off at the nearest SES centre.
Are you in the Brisbane area? You are invited to help too.. but only if it is safe to travel to the centres.
In the coming weeks food prices will soar and availability of foods will become scarcer due to all crops in this region being destroyed by the floods, and because of the damage to roads which will prevent food being delivered to some areas.
This is going to further impact on those who have lost their homes ... lost everything.
If you can, please donate to one of the organisations who have a relief effort going.
Some ways you can help
support the online auctions from the crafting community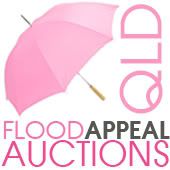 Lifelines flood appeal
http://floodappeal.com.au/
To donate to the Premier's flood appeal
http://www.qld.gov.au/floods/
If you know more please let me know.
Continue to pray for my fellow Queenslanders.
Edited to add:
Please also keep in your prayers the people of northern NSW and Victoria who are also experienced flooding now too. It makes you wonder where it will end?