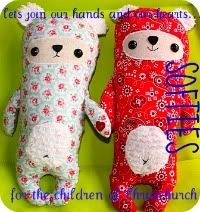 Lets join our hands and our hearts and make a special softie (handmade soft toy) to be loved by a child who has been affected by the devastating earthquake in Christchurch, New Zealand.
Leave a comment below with your email address and we'll coordinate getting these special toys to their new owners.
Anyone in NZ or around the world is welcome to contribute, maybe you'd like to include a little note of encouragement and love with your softie.

* update : sewn, knitted, crocheted toys for babies, toddlers, and children of any age would be most appreciated!!
I will send out an email in a day or two with the posting details etc.

Please pass this button on and pop it on your side bar so we can share the love.

YOU GUYS ROCK!!