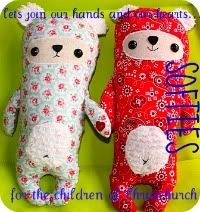 Well I haven't forgotten about the Softies, things have just been super busy around these parts.

After a huge number of softies arriving there was a bit of a lull and then they all started arriving in full force again. You should see our living room!!

A HUGE thank you to everyone who has taken the time to create one or in most cases, several beautiful softies.

On Friday I will be taking them to Auckland to go on the courier to Christchurch. Don't worry if yours is a latecomer, I am happy to forward on any others that arrive.

I will post some more pics soon!! promise!!

And I will let you know about their travels to their new homes.