Finally, Im organised!!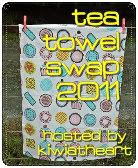 I hope everyone is still interested in signing up for the Tea Towel Swap.

1. Its open to everyone to join in, worldwide.
2. If you want to sign up, make sure you're going to keep your end of the deal - people who don't are frowned upon in these parts.
3. Sign up by 12th May. Send me an email to kiwiatheartdesigns@gmail.com with your name and address and your blog address.
4. Please include in your swap... a NICE teatowel (not a $2 shop hack...make it a pretty one). It can be bought or handmade. And you could include a little something special for your swap partner (eg. a dishcloth, pegs..).
4. Remember, its all about the packaging too - wrap it with love and care so its special to open at the other end.
5. Once the swap is closed I will email you with your swap details.

Right I think thats it.

And pop the button on your blog! I spent hours on it LOL !!